Pol-Eko offer a huge range of laboratory incubators, with a wide variety of customisations to fit your requirements to the letter. But if all that choice leaves you feeling a little overwhelmed, use our handy guide to easily see the features and benefits of each model.
Pol-Eko Laboratory Incubators
We offer five different Pol-Eko incubator models:
Temperature differences
If you know the temperature range you require, use our quick-glance guide to determine the best option for your lab. For the widest temperature range, from -10°C to 100°C, you'll want the ILW cooled incubator. The CLN and CLW also reach 100°C, but without the cooling option. The ST will cool to 3°C (upper temperature depends on the controller option you choose), while the ILP Peltier-cooled incubator will reach 20°C below ambient.

Lighting options
The ST cooled incubator and ILW cooled incubators can be equipped with customisable controlled- lighting systems. This can be used to simulate day/night, or for exposing samples to specific light wavelengths. This option is extremely popular for laboratories working with plant/fungus growth, seed germination studies and growth of light-dependent micro-organism.
Download brochure pages for Pol-Eko incubators with controlled lighting here.
Due to the wide variety of options for the FIT/FOT controlled-lighting incubators, these should be ordered over the phone or by email. Call us on 01257 270433 to discuss your requirements.

Controller Options
Pol-Eko incubators come equipped with touchscreen full colour controllers. These are designed to use while wearing gloves, and display a wide array of at-a-glance information for the user.
For all incubator models, you can choose between the 4.3" Smart controller, and larger 7" Smart PRO. The Smart PRO offers a full alphanumeric keyboard compared to the numeric Smart controller, 40 user-set programmes and password-protected user accounts. Notice that the extended temperature ranges on the ST and ILW incubators are only available with the Smart PRO controller.
Download Pol-Eko Controller Comparison Chart here
Download full details of the Pol-Eko Controller Options here

Chamber Sizes
The names of the Pol-Eko incubators give a rough indication of the chamber capacity. Both the CL incubator and ST cooled incubator have a wide range of sizes, from the tiny 15 L CL right up to the double fronted 1500 L ST.
The smaller ST incubators are available as part of the multi-chamber incubator range, allowing you to mix-and-match cooled incubators with refrigerators or freezers.
For a full comparison of the measurements for each incubator model, download the brochure sheets here:
Pol-Eko CL Incubator Brochure Pages
Pol-Eko ST Cooled Incubator Brochure Pages
Pol-Eko ILP Peltier-Cooled Incubator Brochure Pages
Pol-Eko ILW Cooled Incubator Brochure Pages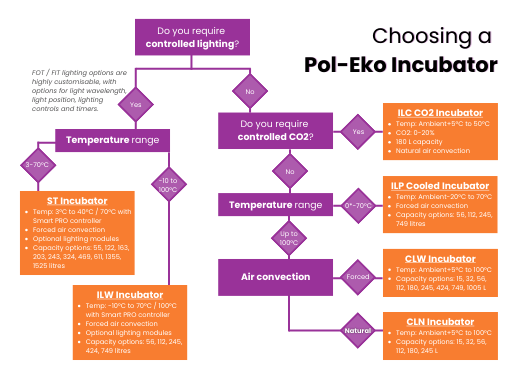 Browse All Pol-Eko Incubators