What is a Climate Chamber?
Climate chambers (also known as environmental chambers) allow the user to precisely and reliably control the atmosphere of a test chamber. Typically this involves setting the temperature and humidity, though it can also include lighting conditions, vibrations, and other conditions.
Laboratory climate chambers can be used for growth of plants or microorganisms, seed germination, insect breeding, food preservation testing, and materials testing, such as for building materials.
About Pol-Eko Environmental Chambers
At Richmond Scientific we stock a range of used and refurbished Memmert and Binder climate chambers. We also stock a wide range of new climatic chambers from Pol-Eko, to suit a range of applications. Pol-Eko climate chambers all come equipped with Smart PRO controllers, allowing the user to program and save multiple temperature and humidity programs, as well as easily downloadable event logs for optimal monitoring and reporting. Pol-Eko have been making thermostatic cabinets for almost 30 years, and introduced their climatic chamber range in 2008.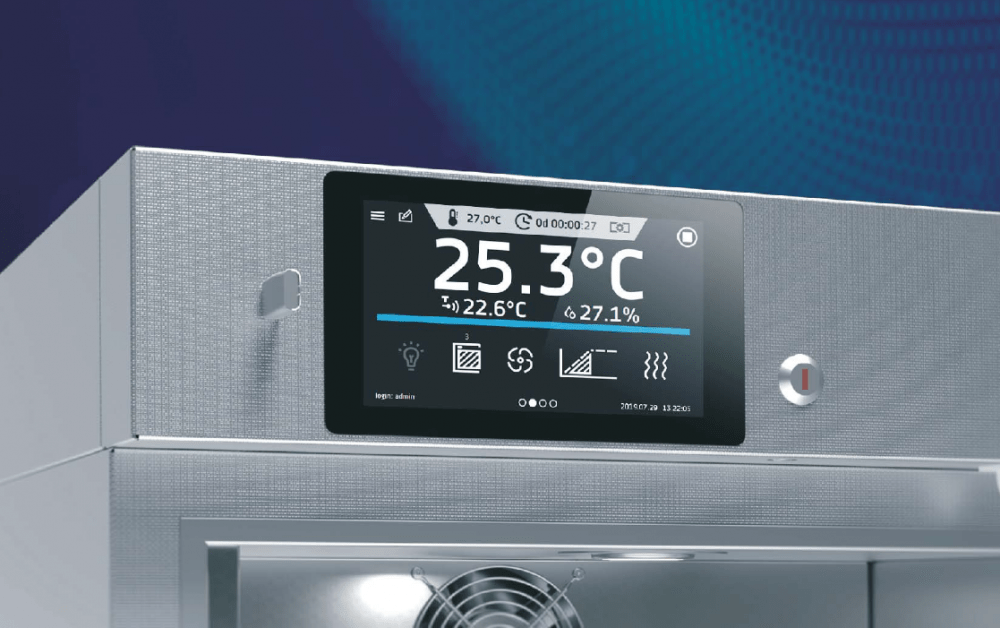 Which Pol-Eko Environmental Chamber do you need?
Pol-Eko make a range of different sizes, from large freestanding cabinets, to smaller benchtop climatic chambers. When choosing an environmental test chamber you need to consider the maximum temperature, humidity range, lighting options, and chamber dimensions.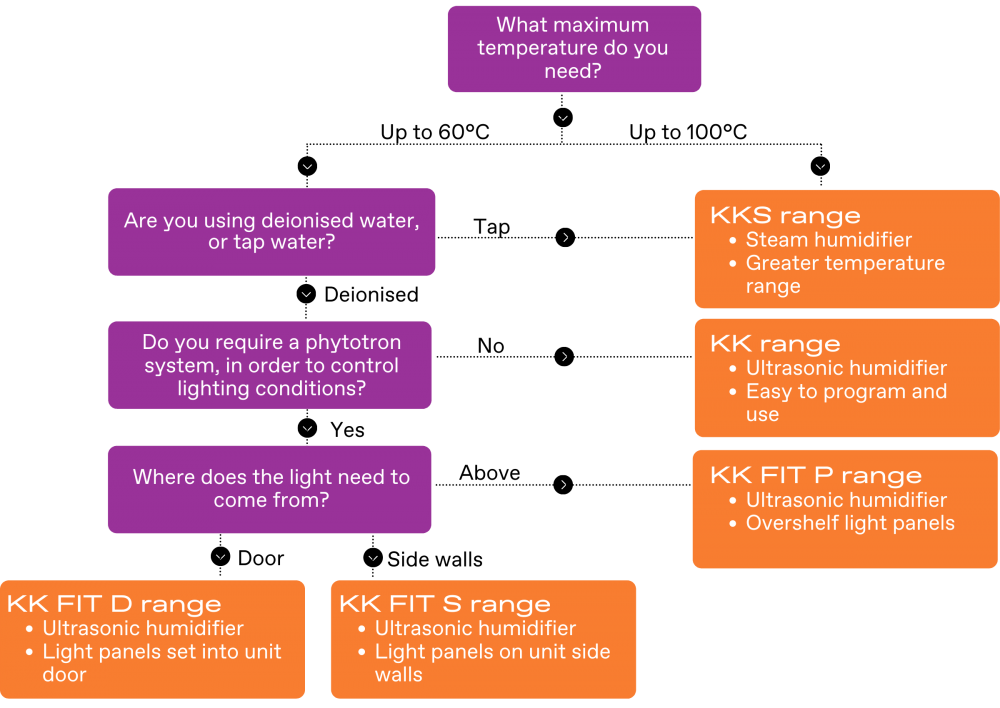 Steam or Ultrasonic Humidifiers?
The KK environmental chambers use ultrasonic humidifiers, whereas the KKS range use steam humidifiers. But what's the difference? And which is better for your application?
Ultrasonic humidifiers use piezo-electric generators immersed in a water tank within the climate chamber to generate tiny droplets which are sprayed uniformly throughout the chamber. Steam humidifiers on the other hand generate water vapour using heaters. Steam humidifiers work across a greater temperature range, making them ideal for materials and electronics testing. They also work better for insect breeding, where ultrasonic vibrations would be unsuitable.
Steam humidifiers don't require water to be purified prior to use, so can run using a tap water feed. This is ideal for climate chambers in smaller labs which may not have a water purification system. Ultrasonic humidifiers on the other hand must use deionised water. If you are looking for a lab water purification system you can see our range here, or read more about what water purification units are available for your lab.
If you don't need the extra temperature range (and you're not breeding insects), the KK environmental chamber uses less power than the KKS, making it cheaper to run and more environmentally friendly.

About the FIT Phytotron Range
Many of the KK climate chambers are also available with a FIT phytotron option. These climate test chambers are fitted with lighting, which can be tailored to your application. These are particularly suited to growing plants, or other light-sensitive applications. There are four different configurations available for the FIT range: P, D, S and SD. This simply dictates where in the chamber the light panels are fitted.
The FIT P environmental thermal chambers have the light panels fitted above the shelves; whereas D and S emit light from the sides (door, or chamber side walls, respectively). These phytotron climate chambers come with 840 daylight simulation fluorescent tubes as standard, but you can change this up to suit the exact needs of your medium. Pol-Eko can also supply narrow-spectrum red, blue or white LED modules, allowing you to fine tune the optimum environment for photosynthesis, or proliferation, for example. Ask about the optional R3 upgrade if you'd like to be able to control the light intensity for each shelf / module independently. Give us a call if you'd like to speak to someone about which option is best for you.
What does the number in the model name mean?
You'll notice that each of the different KK and KKS climate chambers have different numbers in their names. This is simply to denote the chamber size. As a rough approximation, the number is the volume of the chamber in litres (though check the specifications for the actual volume as they do vary). The smallest Pol-Eko climatic chamber we stock is the KK 115, which is ideal for smaller labs, or individual samples. This size is also ideal for very sensitive applications, where it is vital that samples are not disturbed by additional lab users. At the other end of the range is the KK 1450 – a large environmental chamber with double doors.
Useful Downloads
Brochure pages for Pol-Eko Climate Chambers
Read more about Pol-Eko Smart PRO Controllers
Exterior Housing Options for Pol-Eko Climate Chambers
Download the Complete Pol-Eko Lab Equipment Brochure
If you would like to download the datasheet for a specific Pol-Eko Climate Chamber, you will find them linked at the bottom of the product pages.