When it comes to laboratory equipment, Ohaus stand as a beacon of excellence, known for their commitment to high-quality components and innovative features. Ohaus centrifuges, available from Richmond Scientific in both refrigerated and non-refrigerated variants, exemplify this dedication to precision and performance.
High-Quality Components for Reliable Results
Ohaus engineer their centrifuges with high-quality components to ensure dependable and consistent results. Whether you're conducting DNA extractions, protein separations, or other critical experiments, you can trust that Ohaus centrifuges will deliver accurate and reproducible outcomes every time.
Automatic Rotor Recognition for Effortless Operation
One of the standout features of Ohaus centrifuges is their automatic rotor recognition technology. This intelligent system allows the centrifuge to identify the rotor being used automatically, eliminating the need for manual adjustments. This not only saves time but also minimizes the risk of user errors, ensuring precise and safe centrifugation with every run.
A Plethora of Rotor Options and Inserts
At Richmond Scientific, we understand that every research project is unique, and one size does not fit all. That's why we offer the complete range of Ohaus rotor options and inserts, catering to a wide range of applications. Whether you're working with microtubes, PCR strips, or large-volume bottles, Ohaus has the perfect rotor and insert combination to meet your specific needs. If you can't see what you're looking for, give us a call and we'll source it for you.
Quick Shipping for Timely Experimentation
Time is of the essence in the world of scientific research. When you order from Richmond, you can count on your centrifuge arriving promptly, allowing you to proceed with your experiments without unnecessary delays.
Accessibility and Support
Ohaus is a globally recognized brand, making their centrifuges accessible to researchers and scientists worldwide. Whether you're in North America, Europe, Asia, or anywhere else, you can rely on Ohaus for high-quality centrifuges and exceptional customer support. This global presence ensures that Ohaus is there to assist you whenever you need it. All new Ohaus centrifuges sold by Richmond Scientific include a two-year warranty, for complete peace of mind.
Installation and Training for Ohaus Centrifuges
At Richmond Scientific, we are committed to supporting the individual needs of each of our customers. Whether it's just one piece of equipment, or a complete refit, we are able to provide installation and training for your team. Call us on 01257 270433 to see how Richmond can help you.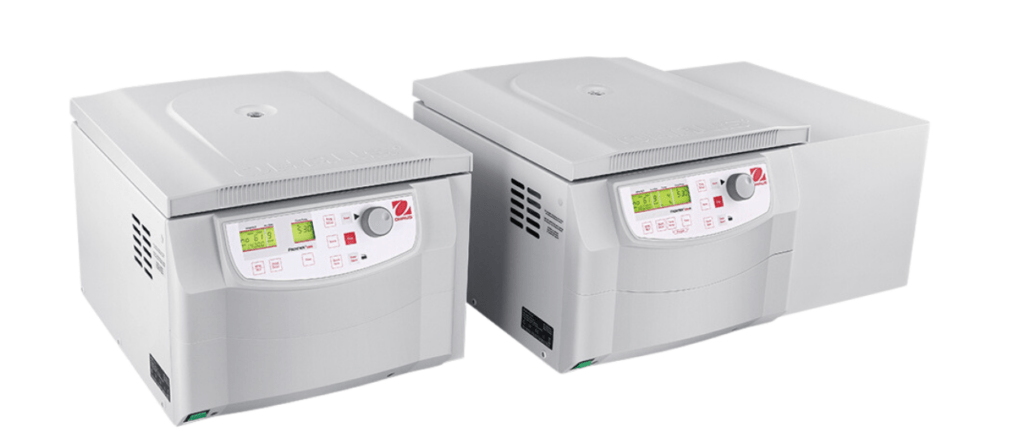 Want to know more? Listen to this podcast from Ohaus on centrifuge safety, and the safety features on the Ohaus centrifuge range.
More Useful Documents