Description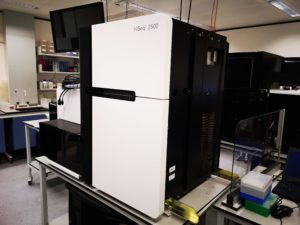 illumina HiSeq 2500 DNA Genetic Sequencer
HiSeq 2500 System is a powerhouse of Illumina sequencers for high throughput applications such as small and large whole genome sequencing, exome sequencing, targeted sequencing, whole transcriptome, mRNA-seq, and shotgun metagenomics. It has the capacity to produce 160 Gb of data per day (or 1 Tb per run) and the system can be configured to run 1 or 2 flow cells simultaneously. The Illumina sequencing systems utilize a well-established sequencing by synthesis (SBS) method in which fluorescently labelled nucleotide bases are detected as they are incorporated into DNA template strands.
The Illumina HiSeq 2500 combines two different run modes, rapid-run and high-output run, for one or two flow cells simultaneously. The high-output mode is ideal for larger studies with several samples or studies that require a greater depth of coverage. Also, the high-output mode permits approximately five times more samples than rapid-run mode to reduce the number of runs for large projects.
Technical Specifications:
Computer and touch screen display
Operating Environment
Temperature: 22°C ± 3°C
Humidity: Noncondensing 20% – 80%
Altitude: Less than 2000m (6500ft)
Air Quality: Pollution degree rating of II
Ventilation: Maximum of 4000 BTU/h
For indoor use only
Laser: 532nm, 660nm, 650nm (barcode reader)
For further technical specifications please refer to the specifications.
See Specifications Here.
See System Guide Here.
See Applications Brochure Here.