Order an Ohaus overhead stirrer between 1st Feb and 30th April '22, and choose a free stirrer shaft worth up to £140.
All overhead stirrer options are included in the promotion. You'll need to order the stirrer, plus a stand and clamp, then you can pick any stirrer shaft for free. Choose from an anchor blade, fixed blade, floating blade, folding blade, 6-hole paddle, propeller, turbine or turbo propeller, giving you lots of options to meet the needs of your lab.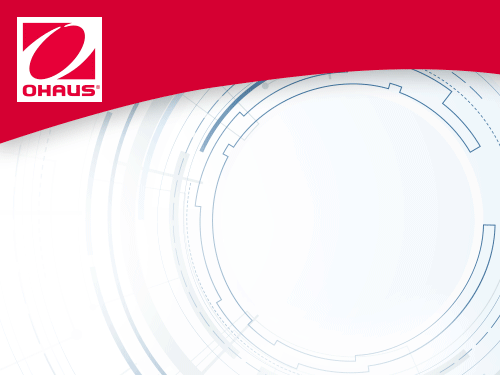 About the Ohaus overhead stirrers
The Achiever 5000 overhead stirrers come in a range of options, depending on the viscosity and volume of your sample. Use the quick table below to decide which stirrer you need.
| | | | | | |
| --- | --- | --- | --- | --- | --- |
| Model number | 5000-25 | 5000-40 | 5000-60 | 5000-100 | 5000-200 |
| Capacity | 25 L | 25 L | 40 L | 100 L | 100 L |
| Sample viscosity | Maximum 10,000 mPa s | Maximum 25,000 mPa s | Maximum 50,000 mPa s | Maximum 70,000 mPa s | Maximum 100,000 mPa s |
| Maximum torque | 20 Ncm | 40 Ncm | 60 Ncm | 100 Ncm | 200 Ncm |
All five units have a simple keyless chuck setup, with easy to change shafts. The speed is easy to adjust, with a lock button to prevent accidental changes. Constant and accurate speed is assured using a brushless motor and torque compensation technology.
Overhead stirrers are preferred over magnetic stirrers when dealing with larger sample sizes, or more viscous liquids that a magnetic stirrer might not thoroughly mix. Overhead stirrers are also more versatile for labs with multiple applications, as stirrer shafts can be easily switched. If you would prefer a magnetic stirrer take a look at our full range of laboratory stirring solutions.
Click here for full details on the Ohaus Achiever 5000 Overhead Stirrers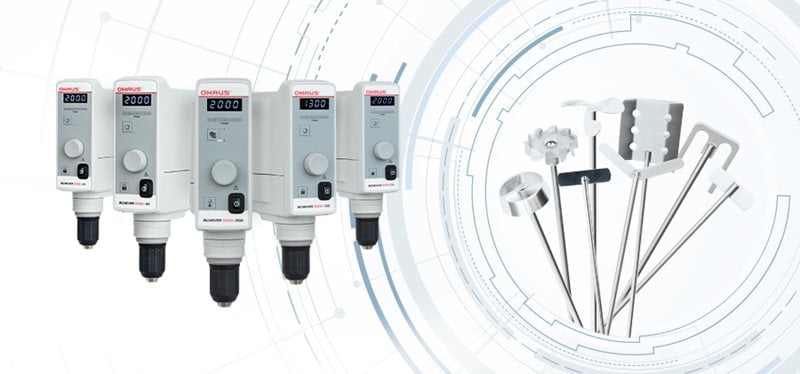 Which free shaft can you choose?
When you order an Achiever 5000 overhead stirrer, with stand and clamp, choose any one of these stirring shafts free of charge.
Promotion details
This promotion is offered by Ohaus. Richmond Scientific reserve the right to withdraw the offer at any time. Offer is valid on orders placed between 1st February to 30th April.
A free stirrer shaft can be added to your order when you order an Achiever 5000 overhead stirrer, plus stand and clamp. Please state which stirrer shaft you would like to include at the time of ordering, as it may not be possible to add the shaft to your order retrospectively.